The LCS or Landing Craft Support along with its accompanying Landing Craft Support, Large, was a series of support ships and gunboats that were used by the United States Navy during World War II. The LCS were often referred to as "Mighty Midgets" and served only in the Pacific Theater.
History
The LCS(L) was developed to support amphibious landings and to intercept inter-island barge traffic. They were a further development of gunboats that had been converted from LCI (Landing Craft Infantry) ships. A total of 130 were built.
The need for such vessels was demonstrated during the Battle of Tarawa.[1] The first LCS(L) was built at the George Lawley and Sons Shipyard and was designated LCS(L) 1.
During the campaign in the Philippines, the LCS(L) aided Philippine rebels. On the evening of 16 February 1945, LCS(L)s 7, 8, 26, 27, 48, and 49, were attacked by Japanese suicide boats and suicide swimmers. LCS(L)s 7, 26, and 49 were sunk and LCS(L) 27 was damaged.
Description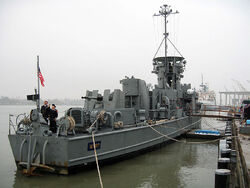 The Mighty Midgets were usually the ones involved in the first assault on the beach. They attack the beaches in a straight line, making two runs and firing rocket barrages at 1000, 800, and 500 yards. After the rocket barrages, the LCS(L) would turn broadside and fire at any targets of opportunity. Then they were followed by the Landing Craft itself. After the troops were on the ground, the LCS(L) would pick off any targets they see. Sometimes, the LCS(L) would serve as Marine artillery spotters.
References